Member Exchange - Career Planning
Career planning is an ongoing process that can help you manage your learning and development.  Regardless of where you are in your career it's useful to explore the path that you're on. It's important to realise that the days of having a straight path up the career ladder are essentially long gone. It's much more useful to think of your career path as a lattice – there might be side steps and upwards, back and across etc. Regardless of the direction, at each stage of your career you want to be developing new knowledge and skills – your developed expertise at each stage will enable you to move into a new opportunity, even within the same organisation.
Career planning is the continuous process of:
Thinking about your interests, values, skills and preferences;
Exploring the life, work and learning options available to you;
Ensuring that your work fits with your personal circumstances; and 
Continuously fine-tuning your work and learning plans to help you manage the changes in your life and the world of work. 
You can revisit and make use of this process all the way through your career.
Start at the step that is most relevant for you now.  
The career planning process has four fundamental steps:
Step 1: knowing yourself
Step 2: finding out
Step 3: making decisions
Step 4: taking action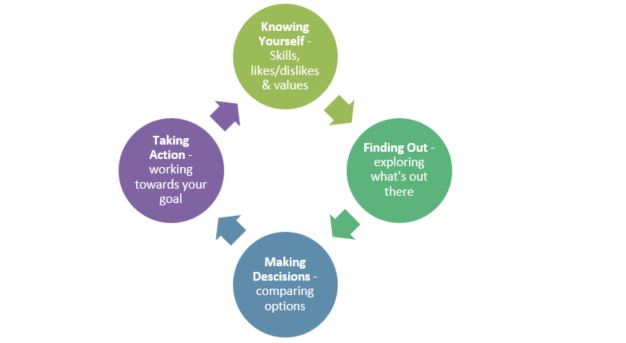 Step 1: knowing yourself
Begin by thinking about where you are now, where you want to be and how you're going to get there. 
Once you have thought about where you are at now and where you want to be, you can work on getting to know your skills, interests and values. 
Begin by asking yourself the following questions:
Where am I at in knowledge and skills now?
Where do I want to be?
What do I want out of a job or career?
What do I like to do?
What are my strengths?
What is important to me?
At the end of this step you will have a clearer idea of your work or learning goal and your individual preferences. The SWOT analysis in Article 1 can also be of great use to you at this point. You can use this information about yourself as your personal 'wish list' against which you can compare all the information you gather in Step 2: finding out.  Your personal preferences are very useful for helping you choose your best option at this point in time, which you can do in Step 3: making decisions.  
Step 2: finding out
This step is about exploring the occupations and learning areas that interest you. Once you have some idea of your occupational preferences you can research the specific skills and qualifications required for those occupations.
Explore occupations that interest you and ask yourself how do my skills and interests match up with these occupations? How do you do this? Ask people around you about their roles, how they achieved their career. This mentoring program is a fabulous tool for hearing others' stories about their careers and how they achieved them. Do research not just on careers but on companies who you think you'd like to work with and where your interests and values align.
Where are the gaps?
What options do I have to gain these skills or qualify for these occupations?  Projects in your current work place are a fabulous way to gain the knowledge and expertise you might need for a step along your career journey. Also look at ways of developing skills outside of your work. Sporting, community and charity groups need people which a vast range of skills. These skills are usually transferable into the workplace.
What skills do I need?
Where is the work?
At the end of this step you will have a list of preferred occupations and/or learning options.  
Step 3: making decisions
This step involves comparing your options, narrowing down your choices and thinking about what suits you best at this point in time.  
Ask yourself:
What are my best work/training options? How will these currently impact on my work and life situation? How long will it take to get appropriate knowledge or qualifications and how do you manage your career in the meantime?
How do they match with my skills, interests and values?
How do they fit with the current labour market? You need to look at things broadly rather than just your personal interest. What's happening in the economy and politically? Is there opportunity for career growth within your current organization or region?
How do they fit with my current situation and responsibilities?
What are the advantages and disadvantages of each option?
What will help and what will hinder me?
What can I do about it?
At the end of this step you will have narrowed down your options and have more of an idea of what you need to do next to help you achieve your goals.  We would recommend that you use the Kolb Action Learning model in your Mentoring Resource book. This will provide an excellent tool to assist you at this stage of the planning model.
Step 4: taking action
Here you plan the steps you need to take to put your plan into action.
Use all you have learnt about your skills, interests and values together with the information you have gathered about the world of work to create your plan. 
Begin by asking yourself:
What actions/steps will help me achieve my work, training and career goals?
Where can I get help?
Who will support me? Who can give me a reality check about my choice at this stage? What might be some of the barriers moving forward and how will I overcome them?
At the end of this step you will have:
A plan to help you explore your options further (eg work experience, work shadowing or more research); or
A plan which sets out the steps to help you achieve your next learning or work goal. 
Decide which step is relevant for you right now and start from there. 
In all of this you need to remember that your career doesn't happen in isolation to other aspects of your life. So as you work your way through the model ensure that you're taking your whole life circumstances into any decisions you make.