Deakin Business School and AIM announce three year partnership
The Australian Institute of Management is pleased to announce a new strategic partnership with Deakin Business School that will ensure the next generation of leaders have access to Australia's most powerful leadership network.

The partnership will offer all students enrolling in the Deakin MBA an automatic Membership with AIM, including full Membership benefits, for the duration of their degree. As Australia's peak body for managers and leaders, AIM will provide Deakin students with exposure to the professional world of management and strengthen their industry engagement.
AIM's Chief Executive, David Pich, says the collaboration is in keeping with AIM's long history of leading the way in providing connections, guidance and knowledge to Australia's management and leadership community.
"Through Deakin's MBA cohort, AIM has the opportunity to support our future leaders. This partnership will allow us to continue guiding them after the completion of their degree, ensuring their learning continues beyond university."
Deakin MBA director, Dr Colin Higgins, says he is confident that this partnership will enhance the students' professional outcomes.
"This is a very exciting opportunity for Deakin MBA students. AIM believes that better managers and leaders, lead to a better society. We feel this resonates strongly with our students and what we try to do in the MBA program."
As Australia's largest Membership organisation for managers and leaders, AIM Membership will provide Deakin MBA students with access to AIM Member Lounges across the country and invites to exclusive Member events and newsletters offering insights, trends and tips from some of the world's most impactful leaders. Membership also offers Deakin students the opportunity to be mentored by experienced managers and leaders through the Member Exchange mentoring program.
In addition to the Membership benefits, the partnership also includes sponsorship by Deakin Business School of the AIM Leadership Excellence Awards (ALEAs). The ALEAs is Australia's preeminent awards program that recognises and celebrates our most outstanding leaders. The Deakin Business School will sponsor the Emerging Leaders category, ensuring developing leaders and managers, who have driven financial success, promoted innovation or made important contributions to their community, can be recognised and celebrated.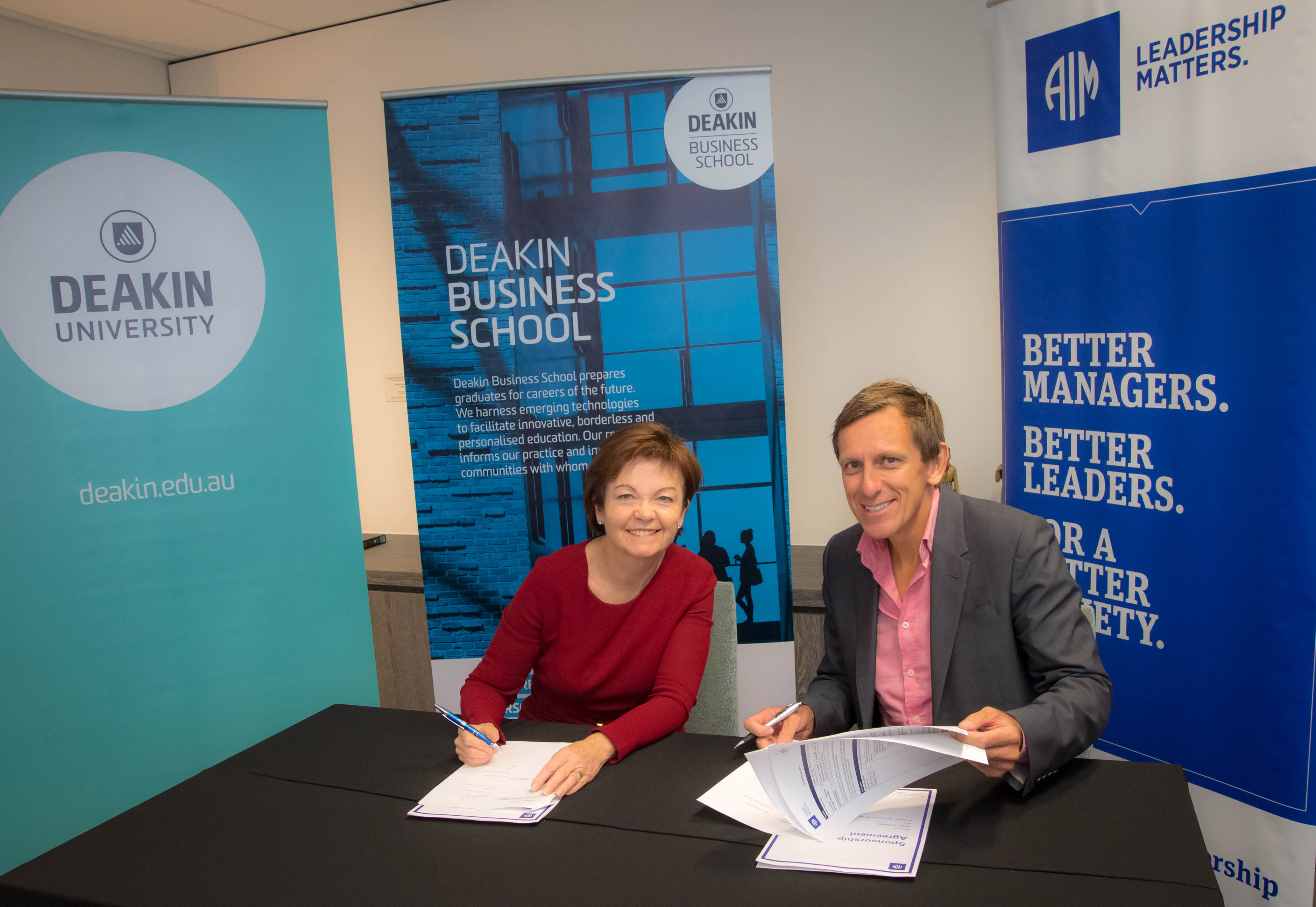 About AIM
The Australian Institute of Management is the peak body for managers and leaders. For 75 years, AIM has been helping professionals develop into becoming great leaders. With more than 12,000 individual and corporate Members, we believe their decisions not only impact people lives but are felt well beyond the workplace.
With the right tools, resources, networks and focus, these decisions can – and do – have a positive impact on society. This view is captured in AIM's Vision: Better managers, better leaders, for a better society. For more information, visit www.aim.com.au