Why choose an AIM Qualification?
Where do you see yourself? Business leader? World-class project manager? Head of Human Resources? Wherever you need to be there's a practical qualification that can get you there. AIM offers a range of career changing Certificate, Diplomas and Advanced Diplomas. Choose a subject area below or get our full training directory.
Take control: study online or in class
Your study, your pace, your rules; AIM is flexible. Whether you prefer face-to-face or online learning, there's an option for you. AIM has campuses nationally as well as its own virtual campus, 'AIM Connect'.
View all qualifications.
Payment Options
AIM is pleased to offer flexible payment options to suit one's budget and lifestyle in order to assist people in up-skilling today! Whether you are interested in a short course or qualification, choose from flexible and affordable repayments including: pay upfront for the full cost of your qualification in one easy payment, defer all or part of your tuition fees with a flexible payment plan from AIM's finance partner, zipMoney or alternatively funding options may be available in your state. Please contact us for more information.
"It really has been an enjoyable experience"
Hear from AIM Qualification student Roslyn Atkinson.
Browse Qualifications by Subject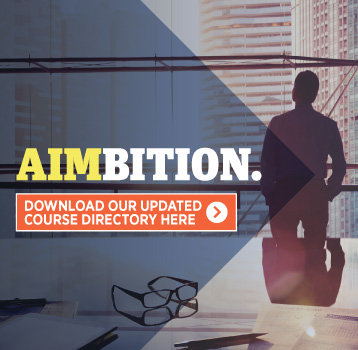 Thank you!
A member of our team will be in touch shortly or if you prefer
to talk to someone now, please phone 1300 658 337.
Sincerely,
AIM Client Services team